Piano Accordion - The Forgotten Saga
The History of Piano Accordion
The first accordion to feature a piano keyboard was probably the instrument introduced in 1852 by Bouton of Paris. Another source claimed the first piano accordion was introduced in 1854 at the Allegemeine Deutsche Industrieausstellung in Munich. It was showcased by the instrument builder Mattäus Bauer and quickly became a serious competitor to button accordions.
The first chromatic piano-like accordions in Russia were built in 1871 by Nikolay Ivanovich Beloborodov.
Piano Accordion played a significant role in music since then, it was actively used in films as a symbolic statement of grace and power, as this heavy instrument ( weighing almost 20 Kgs ) needs strength and control over it.
Picture of Early Piano Accordion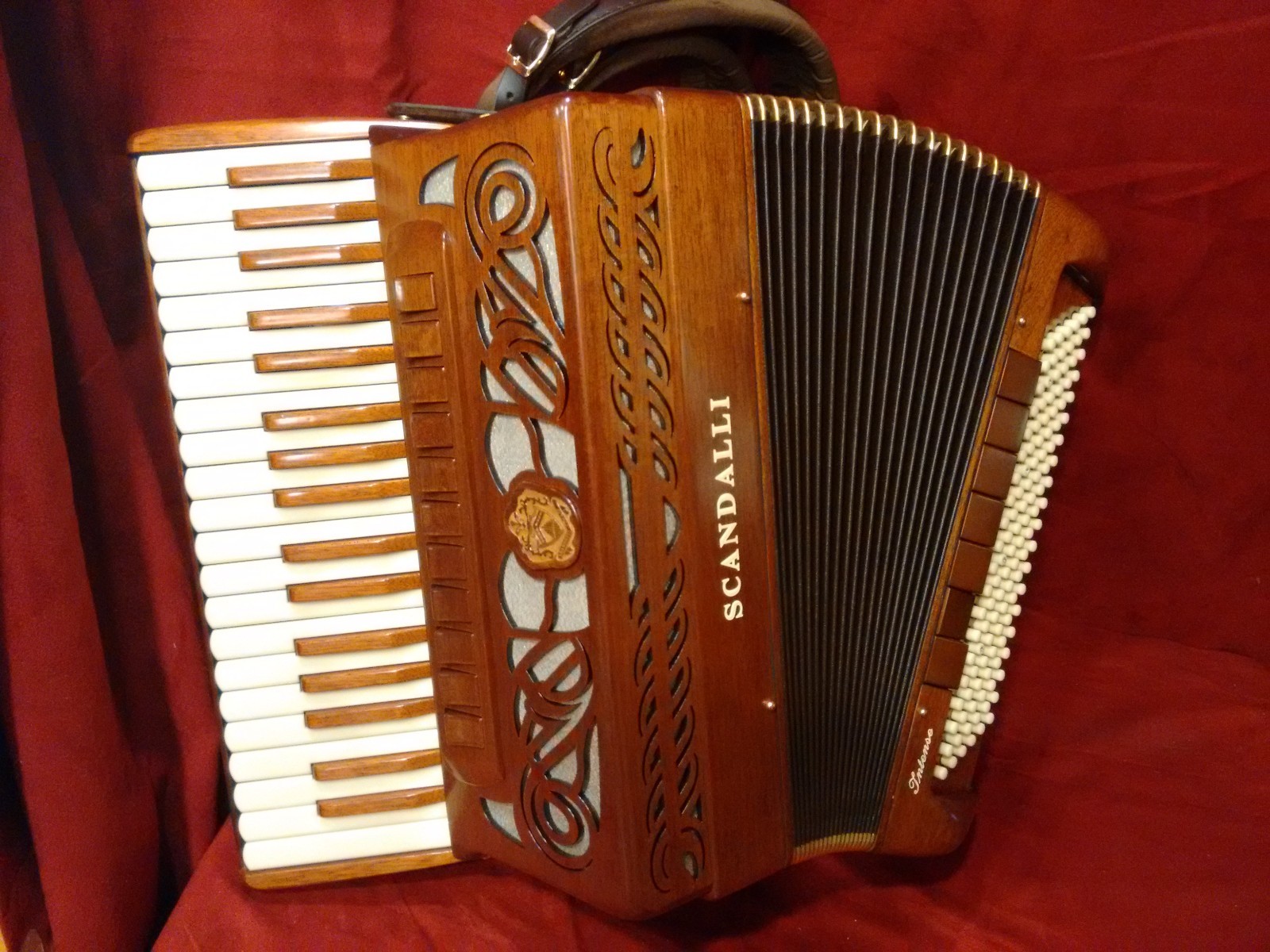 Piano Accordion Performance by Music Director - Anupam Dutta
Anupam Dutta a renowned music director is one of the last generation piano accordion player of contemporary times, he has over 50 Bengali Films under his Directorial venture.
Anupam Dutta
, performing 'Jeena Yahan Marna Yaha' on piano accordion. Anupam Dutta is renowned music director of Bengali Cinema, has over 50 Hit Bengali movie on his cap.
The instrument weighs about 13 kilograms, shoulder strapped and hung on front. Once very popular, now this instrument has lost its glory to electronic keyboard and synthesiser. Playing of the instrument needs sheer power and stamina, as it weighs about 13 Kilogram.
Anupam Dutta at age of 72 years, he still plays a piano accordion with equal vigour and energy, for this shoot he had to play the song multiple times for multiple takes, which was almost 7 hrs.
Rabindra Sangeet on Piano Accordion
Music Director
Anupam Dutta
has unique performance of this typical western musical instrument blending it with traditional Rabindra Sangeet in the following songs
Pran Chai Chakkhu Na Chai - Tagore Song in Western Melody
Music Director Anupam Dutta has chosen the famous song of Rabindranath Tagore for his composition with Western tunes in Rabindra Sangeet. He has used the famous "Do A Deer" song from the Hollywood Classic - Sound of Music as prelude of the song ' Pran Chai Chakkhu Na Chai ' and ' Never on Sunday' - 1960 Greek comedy classic title track as interlude.

The video was shot at various locations of Kolkata ( Calcutta ), i.e. Babughat, Maidan, and various other places. Music Director Anupam Dutta is probably the first person to play a Soprano piano accordion standing on a Victorian horse carriage of Kolkata, a vintage attraction of the city. Young students of Anupam Dutta took part in various part of the video. Violin Brothers Debshankar and Jyotishankar played with the song and added a great value to its richness.
Purano Sei Diner Katha - Tagore Song in Western Melody
Songs of Tagore in Western Harmony - by Anupam Dutta ( Music Director )

Purano Sei Diner Katha an epic song by Rabindranath Tagore is influenced by Scottish country song 'Auld Lang Syne' - might be loosely translated as "for (the sake of) old times". Music Director Anupam Dutta has arranged this famous song of Tagore with Western arrangement as he plays the song in his piano accordion. Violin Brothers, Debshankar and Jyotishankar has extended their support by playing violin in interlude on tunes of Doctor Zhivago: Lara's Theme and Que Sera, Sera (Whatever Will Be, Will Be).

The young students of Music Director Anupam Dutta plays on the rhythm of Que Sera, Sera.

The video is directed by ace Director Amit Ghosh and Associate Director Manashi Ghosh, Director of Photography is Ranadip Dey,
Anupam Dutta also plays pure western piece in piano accordion with a lot of variations his recent cover recording of - I Love Paris is a great piece to appreciate.
Anupam Dutta Playing - I Love Paris in Piano Accordion with a lot of Variations